Chiggy not only has her own website, she also has her own Hyves page and you can follow her on Twitter. She is also on MySpace and in the future she will also have its own channel on YouTube. In short, Chiggy is awfully busy to create a large group of friends around her. Click on the links below togo to these other (external) pages.

At the bottom of each page on this site you'll see a bar that allows you to share that page of the site with someone else. Let all your freinds know where they can find Chiggy !

Chiggy is not active anymore on social media...


| | | |
| --- | --- | --- |
| | | Go to the page now |
| | | Go to the page now |
| | | Go to the page now |
| | | Go to the page now |
| | | Go to the page now |
| | | |
| | | |
| | | |
| | | |
| | | |

At the bottom of each page on this site, you'll see a button bar that allows you to quickly share that section of the Chiggy site with someone else. Do you own Hyves page, then you can instantly share that you are a fan of Chiggy! Press the red "Share this! button to open the following function: You can use your favorite new page then instantly share with your friends on Facebook, Twitter, Facebook and more! Do it! Chiggy would like to have a lot of friends.
You'll find this button on every page



When you click on it the following function appears: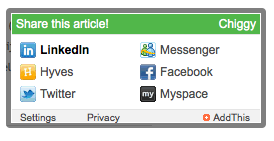 ---