Chiggy's WebSite was created by GriffioenMedia, a company that was founded in 2011 by a creative entrepreneur, with children aged 5 and 7 years, and so has experience with how kids like to play. Because of this he knows what is and is not working and see how the offer on the Internet are often very badly responses to the needs of the children. We believe that you can create a site where all kinds of (free) fun games and creative activities can be found without the children are distracted by all kinds of advertising banners that can guide them to undesired sites. All activities on this website are educationally sound and in the future we also want - by using Chiggy -† to take a step further and attempt to address social problems, in a light and fun manner.





GriffioenMedia a socially engaged company: the created solutions are available to the western world, but we aim to make these solutions also a vailable to the less furtunate children around the world that might not have any educational materials, let alone, creative educational materials. With use of specialists we were able to deliver a well balanced portfolio of activities for children all around the world.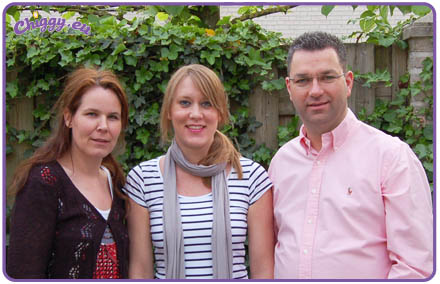 On the photograph illustrator Belinda (left) and general manager Bas (right), owners of Hilaris. In between them educational advisor Vera (teacher primary school). Since Fabruaey 1st 2012 Hilaris seased to exist and Bas started his company GriffioenMedia to continue the management of Chiggy's website.


These core values are on site at the following expression:
- As you can see the WebSite of Chiggy is a very clear site: The menu is always in view and each page has a single recognizable pattern.
- The site offers many creative activities you can play both on the computer, but also can print and then enjoy - coloring or crafts - without a computer!
- We offer activities in four different age groups which are clearly distinguishable: up to 3 years, 4-5 years, 6-7 years and 8 years and up. Each category is indicated with its own distinctive color. Of course, this dividing line is sometimes thin: all activities are available to anyone
- The contents of this site is compiled in collaboration with an experienced teacher from a primary school in the Netherlands, all activities are consistent with the core objectives set for primary schools in the Netherlands.
- The site contains no banners to other websites, enabling the children in a safe environment to play without them clicking through to all kinds of undesired websites. The few links that we have on the site, are kept 'small' and not in the creative parts of the site.
- We go for quality: what we deliver is of high quality and is therefore produced with great attention and care: not a collection of free stuff from the web, but only activities and products designed specifically around Chiggy.
- If you want to play an activity or print a PDF file, itopens in a new window (Allow your internet browser to open pop-ups.) PDF files has the advantage that you can easily scale to the desired size. Also the image quality is very high.
- The site contains a lot of free activities, but when you join you get more options: there are more activities available, you will be notified when new activities are added, and lots of activities have a beautiful full-color version available. A membership is not required, but it lets you be able to make best use of all that is offered. Become a member here.
- In Chiggy's WebShop various articles are for sale that are fully consistent with the activities on the site: all using the same high quality as the site itself. The products will be delivered quickly with the greatest care. Go to the WebShop.
- GriffioenMedia has various contacts around the world with organizations that help people who are less fortunate than we are here in the "rich West". Materials are made available to these organizations and via sponsorship by GriffioenMedia > we are activley approaching children in India, Nepal and Kenya so they can also enjoy the adventures and activites of Chiggy.

Note: the thumbnails shown on this English site sometimes show Dutch text on them; please be reasured that the content behind it is in English !

Visit the site of the creators of Chiggy: GriffioenMedia - The Creative Media Company
---